Super: Issue 2: Rules of Engagement
11 months ago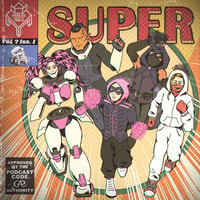 In this issue, our teenage superheroes find themselves in hot water when they break the rules to stop a thieving villain.
Our special guests this episode include The Prize Winning Squid (Rules Lawyer), Garrett Kimmel (Dr. Quantum), and Saker (Buzz Ness/Mr. Business).
GM: Fiona L.F. Kelly Straa'avix/Starpiercer: Nick Uroseva Juno: Chelsea Riexinger Asbel/Blasar: Kitty McClendon Jackrabbit: Cliff B Ezra/Limelight: Daniel Walker
For merch, links to support the show, and more information head over to Project Derailed.
To check out our sponsors, head to https://bit.ly/37cP8YP for more about Db and https://hellofresh-ca.o5kg.net/c/2544961/791027/7893 with code Code: HFAFF80 for an $80 Discount ($50 - $20 - $10) Including Free Shipping on First Box!