Lost: Episode 5: Arriving At Green Ivy Station
2 months ago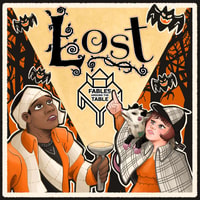 Odell, Posie, and Reggie face off with the Fiend and find shelter at the mysterious Green Ivy Train Station.
Odell, Posie, and Reggie are played by Rodger Page, Kaitlyn Camp, and Nick Uroseva, respectively. Fiona L.F. Kelly is the GM for Lost. You can still pre-order a copy of Babes in the Wood, 2e before May 2021. Copies will be available later on the World Champ Game Co website.
Head to Project Derailed for more about our podcasts.